Description: 'Use CAISET in FSX and FS9'

All my FSX Gliders Part 4 are optimized for FSX with Service Pack 2 (SP2).
The virtual cockpits (VC's) of the gliders for FS9 are less detailed partly and don't correspond to the illustrations shown here.
Download links for FS9 and FSX you find at the bottom of this page ...
---
ICA IS-29 D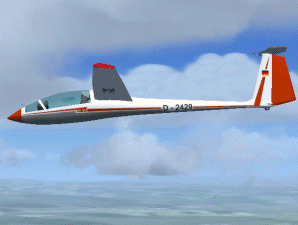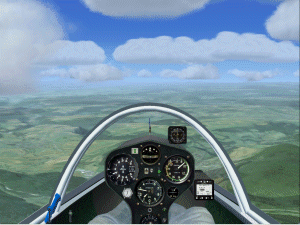 The IS-29 D is a single seater with 15m of span and flaps built in Romania in the 1970s. It was built in many versions. The IS–29 D2 model is built in all metal construction.
Many thanks to Jennifer Tronnier for the picture documents!

Glide ratio 1:37 at 93 km/h

---
ICA IS-29 D2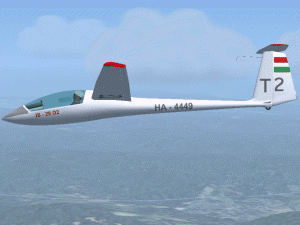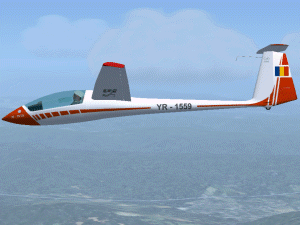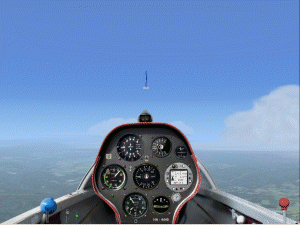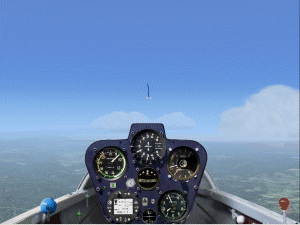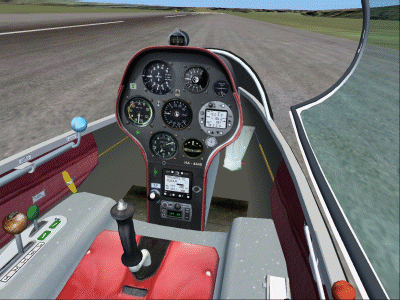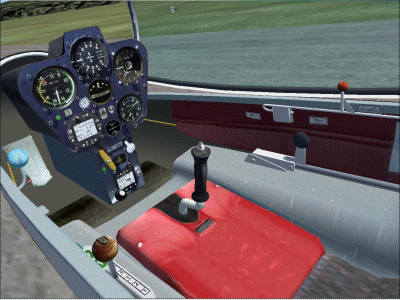 The IS-29 D2 is a single seater with 15m of span and flaps built in Romania in the 1970s. It was built in many versions. The IS–29 D2 model is built in all metal construction.
The FSX model contains 2 texture and panel variants.
Many thanks to István Csikós from Hungary and Charl Viviers from South Africa for the picture documents!

Glide ratio 1:37 at 93 km/h

---
Schweizer SGS 2-33A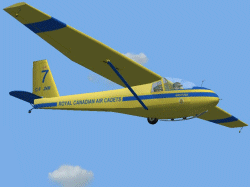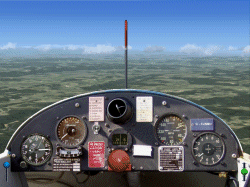 The Schweizer SGS 2-33A is a 2-seat glider that is popular for training across the globe, and is currently the glider of choice for the Royal Canadian Air Cadets. The glider has a metal truss frame, with fabric covering the fuselage, a fibreglass nose cone, and sheet metal wings. The glider is dual controlled, but not dual instrument. (One set of instruments at the front, but two sets of controls).
Thanks to Blair Clayton for his panel picture !

Glide ratio 1:23 at 93 km/h

---
Let Blanik L-13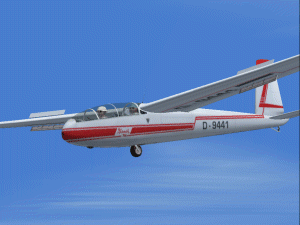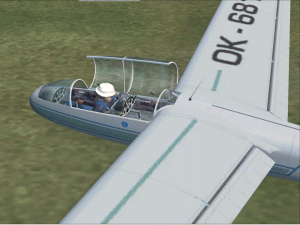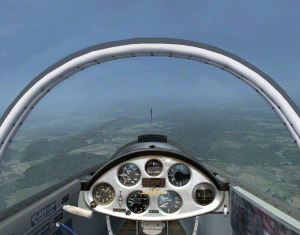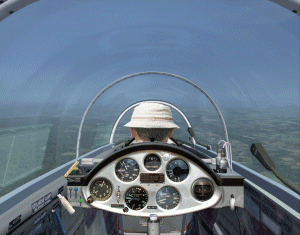 The Blanik L-13 , is a Czech two-seater of the Let Company and one of the few gliders of all-metal contruction. It is suited for aerobatics (flown with single pilot). More than 3000 pieces were built in different versions.
This model has an instrument panel from a little series between 1958 and 1959.

Textures for D-9441, OM-8804, OK-6819

Thanks to Jozef Košík for his many beautiful photos !

Glide ratio 1:28 at 86 km/h

---
L-23 Super Blanik 16.2m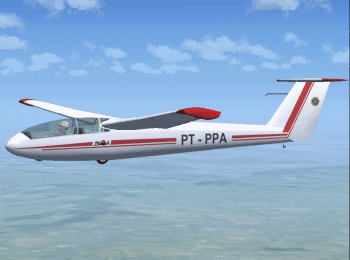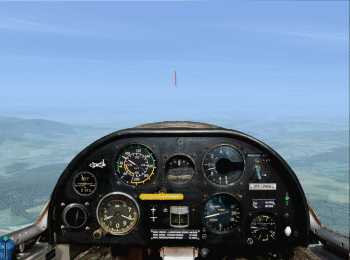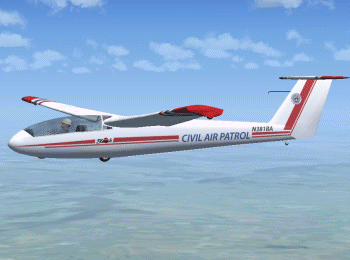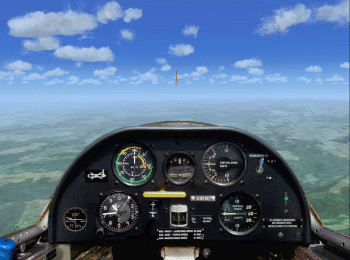 The Super Blaník is an improved version of the original LET L-13 Blanik, and is somewhat roomier in front. Differences include a swept fin and a T-tail. To save weight, the new wings were made without flaps, which were rarely used. LET also moved the tailplane to the top of the vertical stabilizer for better protection in case of outlanding. It has a new instrument suite and a new two-piece canopy (with different framing from that on the original L-13) to improve vision.
The installer includes 2 model versions, which are different in canopy construction and instruments. The version 'CIVIL AIR PATROL' is equipped with instruments in U.S. units. First flight in 1988. (with one-piece canopy later).

Glide ratio 1:28 at 86 km/h

---
L-23 Super Blanik 18.2m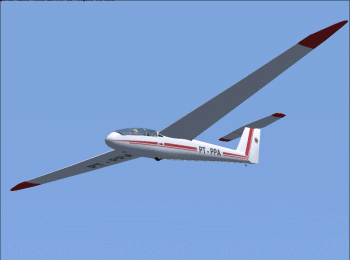 Glider like the glider PT-PPA above, however with a larger span width by wing tip extensions, (better glide ratio, but aerobatics is forbidden in the original model.

Glide ratio 1:32 at 90km/h

---
SZD-Bocian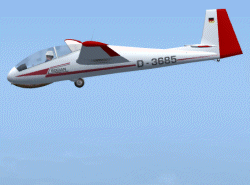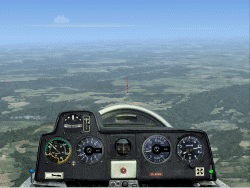 Bocian , a Polish 2 seat glider, first flight in 1952. It flew 29 world records within 13 years. With 500 kg flying weight it belonged to the heaviest 2 seat gliders.
The FS model is suitable also for aerobatics.
Thanks to Mathias Luther and Falk Scherber for their notes, documents and pictures about this airplane. Also thanks to Damian Lesniak for his panel foto !

Glide ratio 1:26 at 84 km/h

---
SZD-22C Mucha Standard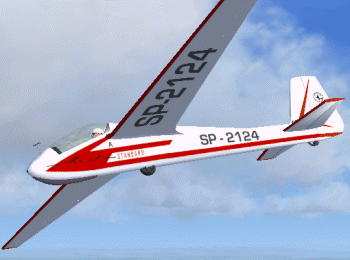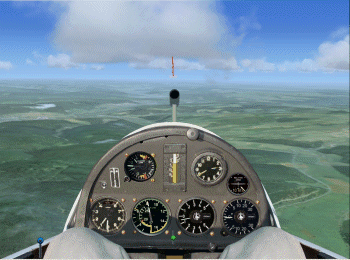 Mucha Standard, a Polish one seat glider for performance between 1958 and 1961. The version 22 C made it's first flight in 1960.
Thanks to Fodor Csaba, Hungary, for his panel picture!

Glide ratio 1:27.8 at 75 km/h
---
Wassmer WA-21 'Javelot' II'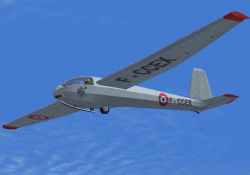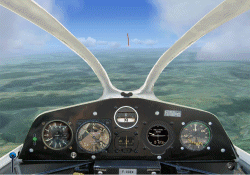 WA-21 'Javelot' II , a French one seat glider, built about 60 pieces. First flight of the first version in 1956.

The textures are from the real model F-CCEX, serial number 32, built in October 1960. This glider has been totally restored and repainted by the Merville's soaring club in France. The glider was the young pilot's preferred plane thanks to her very low flight cost. So they decided to paint her as a warbird, trying to reproduce a steel aspect, with a splendid nose art.

This FS model is provided with many details.
Thanks to Michael Bourgeois for the many pictures, data and informations. Without these I couldn't have built this model so really.

Glide ratio 1:27 at 85 km/h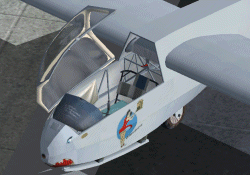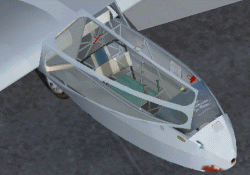 Look into the cockpit's inside of this nice old glider
---
Wassmer WA-30 'Bijave'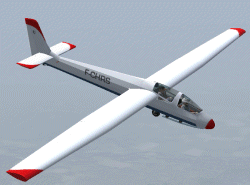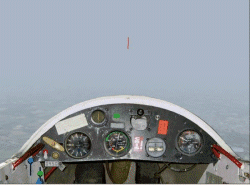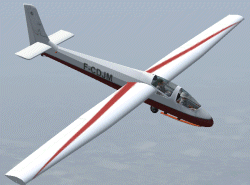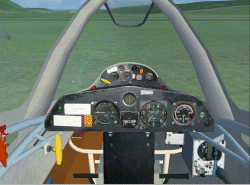 WA-30 Bijave , a French two seater, about 280 built between 1958 and 1972. This glider is a symbol in France such as the Ka7 or ASK13 in Germany. The Bijave is a very robust glider, still efficient and still used in lot of French Aeroclubs to train pilots form the beginning to the first solo flight.
Thanks to Michael Bourgeois who flies much with the F-CDJM, he sent me the pictures and documents, helped me with important notes.

Glide ratio 1:28 at 85 km/h
---
Download Versions:
FS9

FSX