Panel versions: 'CaiSet'

Click on the headers to sort

Klicke auf die Überschriften um zu sortieren
---
Benutzen der CAISET und YAWSTRING Gauges von Max Roodveldt im FSX und FS9
---

Viele meiner Segler sind mit Caiset-Instrumenten ausgerüstet, einer Kombination aus Flugrechner (L-NAV), kompensiertem Variometer und GPS-Gerät.
Die Caiset-Instrumente und auch der Wollfaden funktionieren ohne Probleme im FSX, Service Pack 2, getestet in Windows XP, Windows Vista und Windows 7. Hierzu sind einige Dateien in bestimmte Order zu kopieren - eine ausführliche Installations-Beschreibung liegt jedem Segler bei - und zwar:

die Dateien 'FSSound.dll' und 'SOARRec.dll' ,
die Datei 'gps-nav.dat' und
2 Polarlist-Dateien
ferner ist noch ein Eintrag in die FS9.cfg bzw. FSX.cfg erforderlich.

Alle mit Caiset-Instrumenten ausgerüsteten Segler-Pakete enthalten einen Ordner mit diesen Dateien. Sollte dies nicht der Fall sein, können die Daten auch separat heruntergeladen werden. Es ist aber zu empfehlen, die den Seglerpaketen beiliegenden Polarlist-Dateien zu verwenden, da diese seglerabhängig sind. Sie enthalten deren Geschwindigkeitspolare und andere Flugdaten.
Falls nicht im ZIP-File des Seglers vorhanden, hier obige Dateien zum Herunterladen :
Download Files (50 KB)

Die Gauges selbst für Caiset, VET und Faden befinden sich in den ZIP-Paketen der Segler.


Die weiterhin benötigte Datei 'FSUIPC4.dll' ist nicht in den Segler-ZIP-Paketen enthalten, daher FSUIPC4 Vers. 4.929 (oder neuer) bzw. FSUIPC.dll Vers.3.99 für FS9 bitte downloaden - Freeware-Version reicht aus - und installieren von Peter Dowson's Seite bei www.schiratti.com.
Ein Dank nochmals an Max Roodveldt für seine hervorragende Arbeit !


Checkliste bei Installations-Problemen im FSX oder FS9 :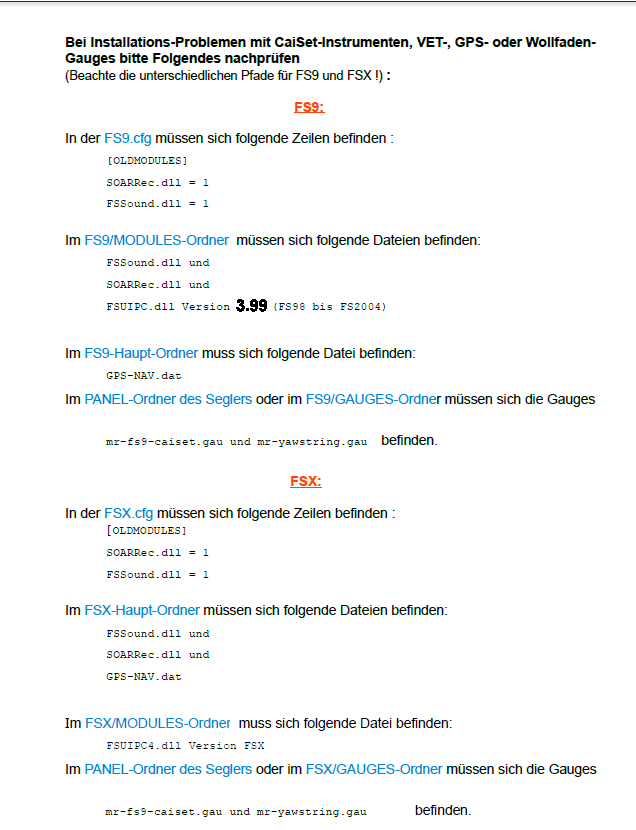 Oder Checkliste hier downladen
---
Use Max Roodveldt's CAISET and YAWSTRING Gauges in FSX and FS9
---

Many of my gliders are fitted out with Caiset instruments, a combination of flight computer (L NAV), compensated variometer and GPS unit.
The Caiset instruments and also the yawstring work without problems in FSX SP2, tested in Windows XP, Vista and Windows 7. For the right function of these instruments some files have to copy into some folders in a certain order - a detailed installation description is enclosed in every glider package. These files are:

'FSSound.dll',
'SOARRec.dll',
'gps-nav.dat' and
2 polar list files

Furthermore an entry has to write into the FS9.cfg or FSX.cfg.

All glider packages with Caiset instruments contain a folder with these files. If this shouldn't be the case, the files can be downloaded also separately. But it is recommended to take the polar list files from the glider package because these files content the speed polars and other flight data which are dependent on the gliders.
Download Files (50 KB)

The gauges 'mr-fs9-caiset.gau' and 'mr-yawstring.gau' for Caiset, VET and yawstring are embedded in the glider packages.

The file 'FSUIPC4.dll', also required, isn't contained in this ZIP file. Please download and install FSUIPC4 Vers. 4.929 or higher or FSUIPC.dll Vers.3.99 for FS9 from Peter Dowson's website
You need only the freeware versions of these addons at www.schiratti.com.
Thanks again to Max Roodveldt for his excellent work !


Checklist at installation problems in FSX or FS9: